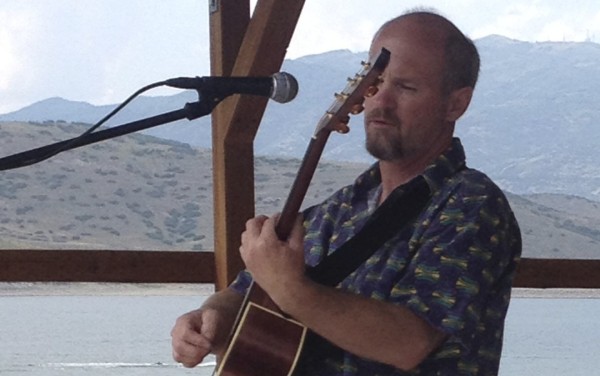 ~ Bruce Music is acoustic jam rock with blues, jazz, funk, and reggae grooves. While performing I create live musical loops building captivating sonic layers to which I improvise with my guitars and vocals. Improvising and creating new music live is what music is all about to me! So I "go for it" performing, ensuring a new and magical musical experience every time.
Musician ~ Bruce Christenson from Park City, Utah
Performing solo, as a duo (with drummer), trio (sax or bass)
Biggest Gig ~ Half time at a Green Bay Packer NFL football game – 50,000 plus in attendance.
Local Venue Performances:
Egyptian Theatre, Harry O's (PC Live), Old Town Cellars Wine Bar, Elks Club, and Miner's Park  ~ Main Street Park City
Kimball Arts Center, Park City Art Gallery Stroll, and Prewitt Gallery ~ Park City
Mountain Town Music ~ Après Ski Park City Legacy Lodge, Canyons Umbrella Bar and Murdock's Café
The Corner Store and Legends Bar and Restaurant at Park City Mountain
Deer Valley Snow Park ~ Après Ski, Deer Valley, The Chateaux at Deer Valley, Riffs Acoustic Music of Park City
Alpine Coffee, PC Coffee Roasters, and Alchemy coffee houses
Millcreek Bar and Grill and The Spot Bar, Salt Lake City
Rockport Reservoir Summer Live Music Series:  "Rock – A – Pulco" 2015 Marina Tour
Recently performed out of state at The Hotel Utah ~ San Francisco and Holly Rocks Bar ~ Wisconsin Rapids, WI
Press Information:
KPCW Park City Radio ~ March 7, 2016 ~ Live performance and interview ~ https://www.youtube.com/watch?v=olC6WZTgmbs
Fox 13 News TV ~ video clip of 2015 Clean Air Rally ~ footage of Bruce performing and interviewed on the Utah State Capital steps ~ January 31, 2015.
KPCW Radio Park City, Utah ~ The Randy Barton Show ~ Live on air performance and interview for the "For Pete's Sake" benefit concert Bruce organized – February 2013.
Park Record Newspaper Park City, Utah – Pre and post articles on the "For Pete's Sake" benefit concert – February 2013
Benefit Performances:
2015 Clean Air Rally – January 31 – Invited by Utah Moms for Clean Air to perform for around a 1000 people rallying at the Utah State Capital.
2013 For Pete's Sake – A benefit concert Bruce Christenson originated, organized, promoted, and performed at with my band "The Peace Kahuna" – It was our first gig and we raised $10,000 for my buddy Pete who is now free of cancer!